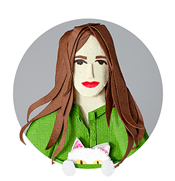 Illustrator
|
Maker
|
Designer
Julianna Szabo is a Hungarian creator of intricate, hand-cut paper sets and illustrations based in London, United Kingdom. 
In her work she likes to elevate a sheet of paper to the 3rd dimension and often brings it to life through stop motion animation, using visual metaphors to draw you into a tactile world.
She also has a passion for typography, which is coming from her graphic design education at the National College of Art and Design in Dublin, Ireland. Her main source of inspiration is her love of nature, but moving to a different country and experiencing different culture from what she grew up in is also a great source of ideas.
Education
First Class BA Honours in Visual Communications, NCAD, Dublin, Ireland
Graphic Design Intern, Lo Siento, Barcelona, Spain
Visual Communications, ERASMUS, Lahti University of Applied Sciences, Lahti, Finland
Information Technology, University of Veszprem, Hungary
Creative
fields
paper craft | animation | set design | prop design | art direction | concept development
Commisioned
by
Gucci, Fossil, Christie's, Bloom, H&G Creations, Catapult, offSITE as part of OFFSET, National Print Museum, Silk Road Film Festival, Chalk Creative
Selected
exhibitions
2016
Geneva Exhibition, Mines d'Art, Geneva, Switzerland
Hackney Paper Art Exhibition
, A-side B-side Gallery, London, UK
2015
Just My Type, OFFSET, Dublin
26 letters for Seán Sills, NCAD Gallery, Dublin
Quote/Unquote Group Exhibition
, Dublin  
Balbriggan Dioramas
, Balbriggan   
HIVE Emerging Group Exhibition
, Waterford  
Nuit Blanche Group Exhibition
, Dublin  
From the Silk Road
, Chester Beatty Library, Dublin 
Silk Road Letters
, Filmbase, Dublin  
2014
RDS Student Art Awards Exhibition
, Royal Dublin Society, Dublin 
What's Left Behind
, Graduate exhibition, National College of Art and Design, Dublin
2013
Harvest Through Paper Art
, Solo Exhibition, Harvest Festival, Zanka, Hungary  
Encouraging entertainment
, Lahti, Finland  
Skateboard Design
, Lamina, Helsinki, Finland  
Uniquely Dublin
, Little Museum of Dublin, Dublin
2012
182nd RHA Annual Exhibition, Royal Hibernian Academy, Dublin 
RDS Student Art Awards Exhibition, Royal Dublin Society, Dublin
The Art of Giving
, TOMS, Dublin  
Sugar Skull
, Little Green Street Gallery, Dublin 
Paint It Black
, Little Green Street Gallery, Dublin 
Word
, Little Green Street Gallery, Dublin